And When She Was Good Blog Tour and Review
And When She Was Good by Laura Lippman
Publication date: June 4, 2013 (Paperback) by William Morrow
Source: Book provided by publisher via TLC Book Tours for an honest review
Description from Goodreads:
When Hector Lewis told his daughter that she had a nothing face, it was just another bit of tossed-off cruelty from a man who specialized in harsh words and harsher deeds. But twenty years later, Heloise considers it a blessing to be a person who knows how to avoid attention. In the comfortable suburb where she lives, she's just a mom, the youngish widow with a forgettable job who somehow never misses a soccer game or a school play. In the state capitol, she's the redheaded lobbyist with a good cause and a mediocre track record.

But in discreet hotel rooms throughout the area, she's the woman of your dreams—if you can afford her hourly fee.

For more than a decade, Heloise has believed she is safe. She has created a rigidly compartmentalized life, maintaining no real friendships, trusting few confidantes. Only now her secret life, a life she was forced to build after the legitimate world turned its back on her, is under siege. Her once oblivious accountant is asking loaded questions. Her longtime protector is hinting at new, mysterious dangers. Her employees can't be trusted. One county over, another so-called suburban madam has been found dead in her car, a suicide. Or is it?

Nothing is as it seems as Heloise faces a midlife crisis with much higher stakes than most will ever know.

And then she learns that her son's father might be released from prison, which is problematic because he doesn't know he has a son. The killer and former pimp also doesn't realize that he's serving a life sentence because Heloise betrayed him. But he's clearly beginning to suspect that Heloise has been holding something back all these years.

With no formal education, no real family, and no friends, Heloise has to remake her life—again. Disappearing will be the easy part. She's done it before and she can do it again. A new name and a new place aren't hard to come by if you know the right people. The trick will be living long enough to start a new life.
My Take:
Heloise, who begins her life as Helen, has had a difficult life, no one can deny that. She had an abusive father, and a mother who was abused and allowed her daughter to be abused both verbally and physically. Helen, who was a bright student, isn't very wise about the world or people, as becomes painfully apparent early on in the novel.
I found myself feeling distinctly uneasy while reading
And When She Was Good
, but I don't think it was the prostitution that was the real problem. I think it was that I could sense all the things that could, and eventually would, go wrong for Helen/Heloise. Through so much of the book, while she thinks she understands people, she is so very wrong. Helen isn't stupid, but she is naive in a certain sense and isn't able to see or envision a world outside of what she has already known. This is a sad situation and made me feel for her and want her to find a way out.
Heloise does make changes and begins a new life of sorts. Unfortunately, despite her precautions, she is still very vulnerable to betrayal. The novel switches between current time and Helen's past until the story lines meet up and then continue the narrative in the present. This worked quite well in slowly building the tension and building the back story. I was quickly pulled into the story and despite wanting to shake some sense into Helen/Heloise at various points, I liked her as a character. Fortunately she does eventually begin to see people for who or what they really are and then takes action accordingly. For someone who lies all the time and deals with such shady characters,Heloise can be a bit dense at times. But she tries and she tries to improve herself and most of all she tries to be a good mom. That right there is what I liked the most about her and the book. Above all, she wants to give her son a good, safe, stable life.
The mystery and intrigue of the book are quite compelling and will definitely hold the reader's attention. I had to stay up until the wee hours to finish the book because I knew I wouldn't be able to sleep until I had. I can highly recommend And When She Was Good.
About Laura Lippman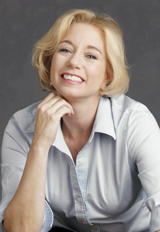 Laura Lippman grew up in Baltimore and returned to her hometown in 1989 to work as a journalist. After writing seven books while still a full-time reporter, she left the
Baltimore Sun
to focus on fiction. The author of two
New York Times
bestsellers,
What the Dead Know
and
Another Thing to Fall
, she has won numerous awards for her work, including the Edgar, Quill, Anthony, Nero Wolfe, Agatha, Gumshoe, Barry, and Macavity.
To learn more about Laura's work, visit her
website
or connect with her on
Facebook
.
Laura's Tour Stops
Tuesday, June 4th:
Kritters Ramblings
Wednesday, June 5th:
Book Reviews by Elizabeth White
Monday, June 10th:
Sara's Organized Chaos
Tuesday, June 11th:
A Book Geek
Wednesday, June 12th:
Sharon's Garden of Book Reviews
Thursday, June 13th:
Literary Feline
Monday, June 17th:
What She Read
– joint review
Wednesday, June 19th:
Tina's Book Reviews
Thursday, June 20th:
she treads softly
Tuesday, June 25th:
Drey's Library