The Sun in Your Eyes Blog Tour and Review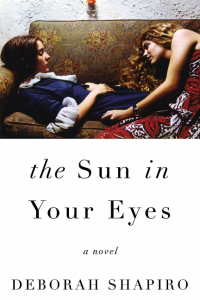 The Sun in Your Eyes by Deborah Shapiro
Hardcover: 288 pages
Publisher: William Morrow
Publication date: June 28, 2016
Source: Publisher via TLC Book Tours for an honest review
Description:
A witty and winning new voice comes alive in this infectious road-trip adventure with a rock-and-roll twist. Shapiro's debut blends the emotional nuance of Elena Ferrante with the potent nostalgia of
High Fidelity
, in a story of two women—one rich and alluring, the other just another planet in her dazzling orbit—and their fervid and troubled friendship.
From the distance of a few yards, there might be nothing distinctive about Lee Parrish, nothing you could put your finger on, and yet, if she were to walk into a room, you would notice her. And if you were with her, I'd always thought, you could walk into any room.
For quiet, cautious, and restless college freshman Vivian Feld, real life begins the day she moves in with the enigmatic Lee Parrish—daughter of died-too-young troubadour Jesse Parrish and model-turned-fashion designer Linda West—and her audiophile roommate Andy Elliott.
When a one-night stand fractures Lee and Andy's intimate rapport, Lee turns to Viv, inviting her into her glamorous fly-by-night world: an intoxicating mix of Hollywood directors, ambitious artists, and first-class everything. It is the beginning of a friendship that will inexorably shape both women as they embark on the rocky road to adulthood.
More than a decade later, Viv is married to Andy and hasn't heard from Lee in three years. Suddenly Lee reappears, begging for a favor: she wants Viv to help her find the lost album Jesse was recording before his death. Holding on to a life-altering secret and ambivalent about her path, Viv allows herself to be pulled into Lee's world once again. But the chance to rekindle the magic and mystery of their youth might come with a painful lesson: while the sun dazzles us with its warmth and brilliance, it may also blind us from seeing what we really need.
What begins as a familiar story of two girls falling under each other's spell evolves into an evocative, and at times irrepressibly funny, study of female friendship in all its glorious intensity and heartbreaking complexity.
My Take:
The Sun in Your Eyes sounds like it would be a friends' road trip kind of book, but it really isn't - there is a road trip, but that didn't seem to be the main focus to me. The real focus of the novel seems to be an examination of the friendship between Viv and Lee. Lee is the dazzling daughter of a fashion designer and a died-too-young rock star. Lee seems to be somewhat manipulative and has some issues with her parents. Viv is the quieter, steadier of the two, but still feels drawn into Lee's orbit. Their relationship is rather complicated and each has their own reasons for going on this road trip.

Even though the novel is about this troubled friendship, it almost seemed to me that it was equally about the women finally allowing themselves to grow up and past their former selves. Viv seems to be on the verge of moving beyond her college self and finally embracing full adulthood - but not without feelings of uncertainty. Lee is still in search of herself and where she comes from -- her father has been mostly a memory and his music and old photos.

The Sun in Your Eyes was an interesting book - not really a page-turner, but intriguing and troubling. Despite the description of the book hinting at humor, I didn't really find much humor -- I did however find it to be thought provoking in a melancholy kind of way. I found it interesting how every character in the book has issues and most are not very likable for various reasons - much like actual people in real life.

It is kind of funny though - right after I finished reading the book I didn't think I liked it all that much -- but the more I think about it, the more I like it. One of the reasons I didn't like it much is that none of the characters are the stand out main character -- Viv is a little boring, awkward in some situations, a bit timid and unassuming (maybe reminds me too much of myself), and Lee is a bit too manipulative and assumes that she will always be the center of attention. Their friendship is difficult to figure out - is one of them using the other? And which one is it? Both? Their friendship is messy and troubling - maybe too much like some real friendships. Also, I have to mention that I thought some of the decisions made on the trip were awful - talk about resistance to maturity and responsibility!

If the reader is looking for a funny, happy-go-lucky road trip novel, The Sun in Your Eyes is not that book. However, if the reader is looking for a thought provoking look at friendship, growing into full adulthood, relationships, bad choices, and moving on - The Sun in Your Eyes just might fit the bill.



Purchase Links
About Deborah Shapiro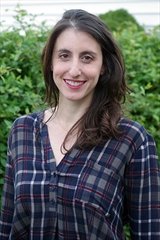 Deborah Shapiro was born and raised outside of Boston, Massachusetts. A graduate of Brown University, she spent several years in New York working at magazines, including
New York
and
ELLE
, and her work has been published in Open City, Washington Square Review, and the
Los Angeles Review of Books
, among other places. She lives with her husband and son in Chicago.
The Sun in Your Eyes
is her first novel.
Follow Deborah on
Twitter
.